AP watches are always so popular, today both models 15400 and 15500 are the best-selling AP Royal Oak replica watches in our market, after JF closed, now ZF completely occupies the market share of AP 15400 and 15500, even if BP appeared later, they can't compete with ZF, because their quality is too good.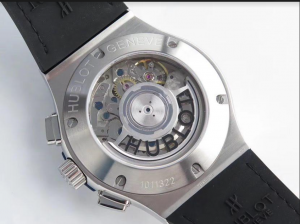 In the past, ZF only made the stainless steel version of the 15500 with four dial options: black, white, gray, and blue, and just a week ago they released a rose gold version with two dial color options: black and white. On some websites they say this is the second time ZF released a rose gold version of the 15500, which is actually incorrect, they have not released a rose gold 15500 before, so this is not a V2 version. As far as I can remember, only OM Factory published their V2 version of the 15500.
The case of the Royal Oak 15500 is 41mm in diameter and is made of solid 316F stainless steel with a thick rose gold coating. Every watch part you see on the watch is rose gold plated, except for the screws on the bezel, which are stainless steel and connect the bezel to the case back through the middle of the case. We can't see the internal structure, but there must be rubber pads between each case part to prevent water penetration. By the way, the thickness of the case is 11 mm.
Many people buy AP Royal Oak 15400 or 15500 not only because they are famous sports watches, but mainly because of their angular case design, which men like.
Currently, the dial is available in two color options, black and white. Just like its case and strap, the finish of the 15500 dials is entirely at a high-quality level. the "AP" sculpture at 12 o'clock is particularly striking, it is rose gold and echoes perfectly the rose gold-tone of the case and strap.
This replica is equipped with a clone of the 4302 automatic movements, which is based on the Miyota 9015 from Japan. I don't want to talk about the Miyota 9015 movement today, as I have already mentioned it in many articles. Instead, it is obvious from the case back photo that this movement is right under your nose, with its automatic oscillating weight modification and back plate decoration that is an exact copy of the AP 4302 movement. In fact, I hope ZF makes a super clone of the 4302 movements in the future, if it succeeds, it would be a killer.